Valve Rental Program
At Gulf Valve Service Company, we commit to providing you with any safety valve or safety relief valve services you require. Whether you need continual service or temporary support, our commitment to you ensures that you receive the exact service you need.
Our Valve Rental Program was created with you in mind as an option for you to temporarily rent a safety valve or safety relief valve for short term applications. The program allows you to use the valve you need for a defined period of time without requiring you to purchase a safety valve or safety relief valve. With our extensive inventory of valves and thorough quality assurance testing, we provide you with a dependable and efficient valve that will work for your required application and time frame.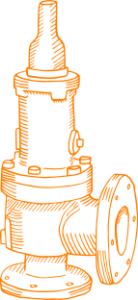 Safety Valves and Safety Relief Valves
We carry safety valves and safety relief valves ranging in sizes from ½" screwed to 8" flange. Every rental valve is ASME Coded, Section I or Section VIII, and fine-tuned for the application needed to ensure precise accuracy.
Rental Periods
Choose to rent your valve for a few days or a few months. We offer custom rental periods to fit your operations and build a rental plan for your specific requirements. Call us today to schedule a custom valve rental.

Days

Months